Design Portfolio
Since 1995 Internet Advertising Solutions has been designing web sites for clients that are functional, fast-loading, and provide site visitors with content and interactivity. Shown below are just a few of the many web sites IAS has designed.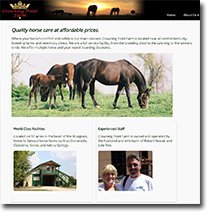 Crowning Point Farm
Crowning Point Farm is a central Kentucky horse breeding farm, and their outdated web site design was completely rebuilt to be mobile-friendly, simple to navigate, and includes a Content Management System for staff to easily make updates to the site.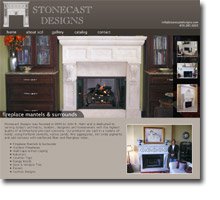 Stonecraft Designs
Stonecraft Designs offers unique fireplace mantels and surrounds created with architectural pre-cast concrete. They needed a site that would showcase both the drawings and finished products.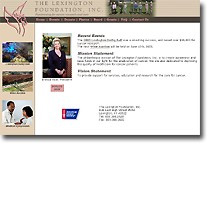 The Lexington Cancer Foundation
The philanthropic mission of The Lexington Cancer Foundation is to create awareness and raise funds in our fight for the eradication of cancer. The Foundation needed a web site that would provide information on fund-raising events, donations and grants. A content management system was included that enables Foundation staff to make basic site changes on their own, plus a photo gallery to showcase events.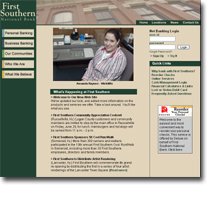 First Southern National Bank
FSNB wanted a web site that visitors could navigate quickly to find the information they need, and one that contained unique features not found at most other sites. This site utilizes a content management system and very helpful financial calculators for their visitors to do some number-crunching. Random employee and location photos are displayed throughout the site.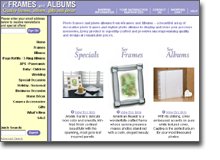 E-Frames and Albums
This site was designed with special attention to photo detail and color enhancement, to better display the beautiful natural wood and other photo frames offered by E-Frames and Albums. Combined with ease of navigation and secure online ordering their site allows customers to conveniently purchase photo frames and albums for fast delivery.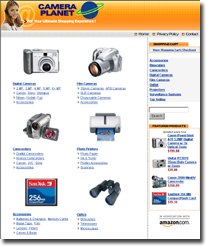 Camera-Planet
Amazon affiliate store selling digital cameras, film cameras, camcorders and accessories, featuring customer product reviews and secure online ordering. Direct links from every product page to newsgroup mentions and convenient price comparisons. Featured products updated every hour.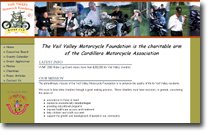 Vail Valley Motorcycle Foundation
The Vail Valley Motorcycle Foundation is the charitable arm of the Cordillera Motorcycle Association, with the goal of enhancing the life of Vail Valley residents and funding charities through grants. A content management system and photo gallery were included in the site development, so that the client could easily maintain the site content on their own.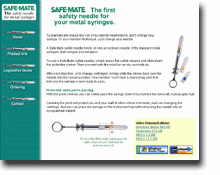 Safe-Mate
Safe-Mate is the first safety needle for metal syringes. The Safe-Mate group needed a basic site to promote their unique product online. This site was delivered within one week, and features video animation in multiple formats, email and order forms.
Ezcor 9000 Technologies
Ezcor needed a site that showcased their products and provided useful information, while allowing them to maintain the product listings quickly and easily. Internet Advertising Solutions developed a completely database driven design with automatic page generation for each product. Unlike most database type sites, these web pages are completely indexable and optimized for search engines. Secure online ordering with worldwide delivery options completes the package.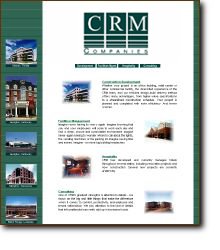 CRM Companies
CRM provides commercial development, architectural design, facilities and property management, hospitality services and consulting to clients nationwide. They needed a site that showcased their clients and explained the advantages of the specialized services that they offer. Photos of properties they develop and manage are located throughout the site.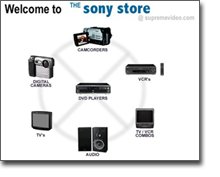 The Sony Store
The Sony Store is a retail site specializing in Sony consumer electronics products. They needed a clean uncluttered web site design with very simple navigation. The home page layout gives the illusion of products "floating" on the background.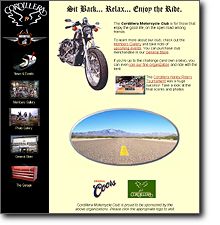 Cordillera Motorcycle Association
This motorcycle club needed a web site that kept members informed about upcoming events and road trips. Member profiles are stored in a database, allowing easy editing by club staff and even giving club members a way of keeping their information current via their own login. A News and Events page and Harley-related links section is also easily updated by club staff. The home page features a neat "mirror image" animation of a highway.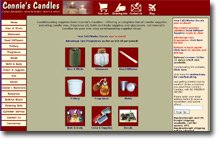 Connie's Candles
Their online store offers a complete line of candles and candlemaking supplies, including wax, scents, wicks, pottery and glassware. The site went through a complete redesign that allows for easier addition of categories, better navigation and additional features to attract and keep site visitors.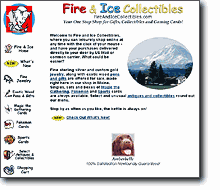 Fire & Ice Collectibles
Fire & Ice is a collectibles shop in Maine, and carries custom jewelry and wood pens, trading cards and antiques. This fast-loading site allows them to easily maintain their product database, and presents the customer with an automatically updated What's New section. Unlike most online stores, each product page can be indexed by Internet search engines for more online exposure. A secure online shopping cart completes the package.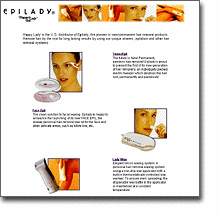 Epilady
Internet Advertising Solutions was chosen to develop the U.S. nationwide web site for Epilady, the pioneer in semi-permanent hair removal products. Their web site features an open, airy design along with secure online ordering for the entire product line.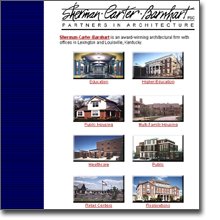 Sherman-Carter-Barnhart Architects
Sherman-Carter-Barnhart Architects is an award winning architectural firm specializing in education design, public housing design, healthcare facility design and more. SCB wanted a site that showcased their unique designs and that allowed their clients the ability review designs and make changes themselves by logging into a secure area.
Registered Agents Legal Services
RALS provides incorporation services for businesses. While they specialize on Delaware corporations, they can incorporate or form an LLC for your business in all 50 states.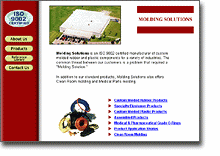 Molding Solutions
Molding Solutions is an ISO 9002 certified manufacturer of custom molded rubber and plastic components for a variety of industries. Their web site utilizes javascript navigation buttons and contains a large amount of information on molding technology and processes.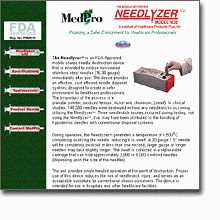 MedPro, Inc.
A fast-loading site designed especially for audiences overseas, this site showcases a life-saving product called the Needlyzer. The Needlyzer provides a safe method of destruction of hypodermic needles.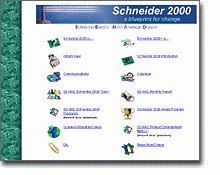 Groupe Schneider
Groupe Schneider is a global manufacturer of electrical distribution equipment. This site was designed for their corporate intranet, and highlights various programs and news within the organization.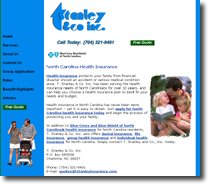 T. Stanley & Company, Inc.
This insurance agency needed a basic site that would allow online quote requests and be optimized specifically for the North Carolina insurance market, while being compliant with insurance guidelines.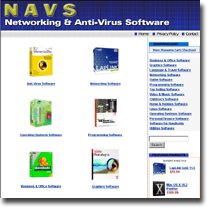 NAVS
Amazon affiliate store selling antivirus software, networking software, and operating systems, featuring customer product reviews and secure online ordering. Direct links from every product page to newsgroup mentions and convenient price comparisons. Featured products updated every hour.